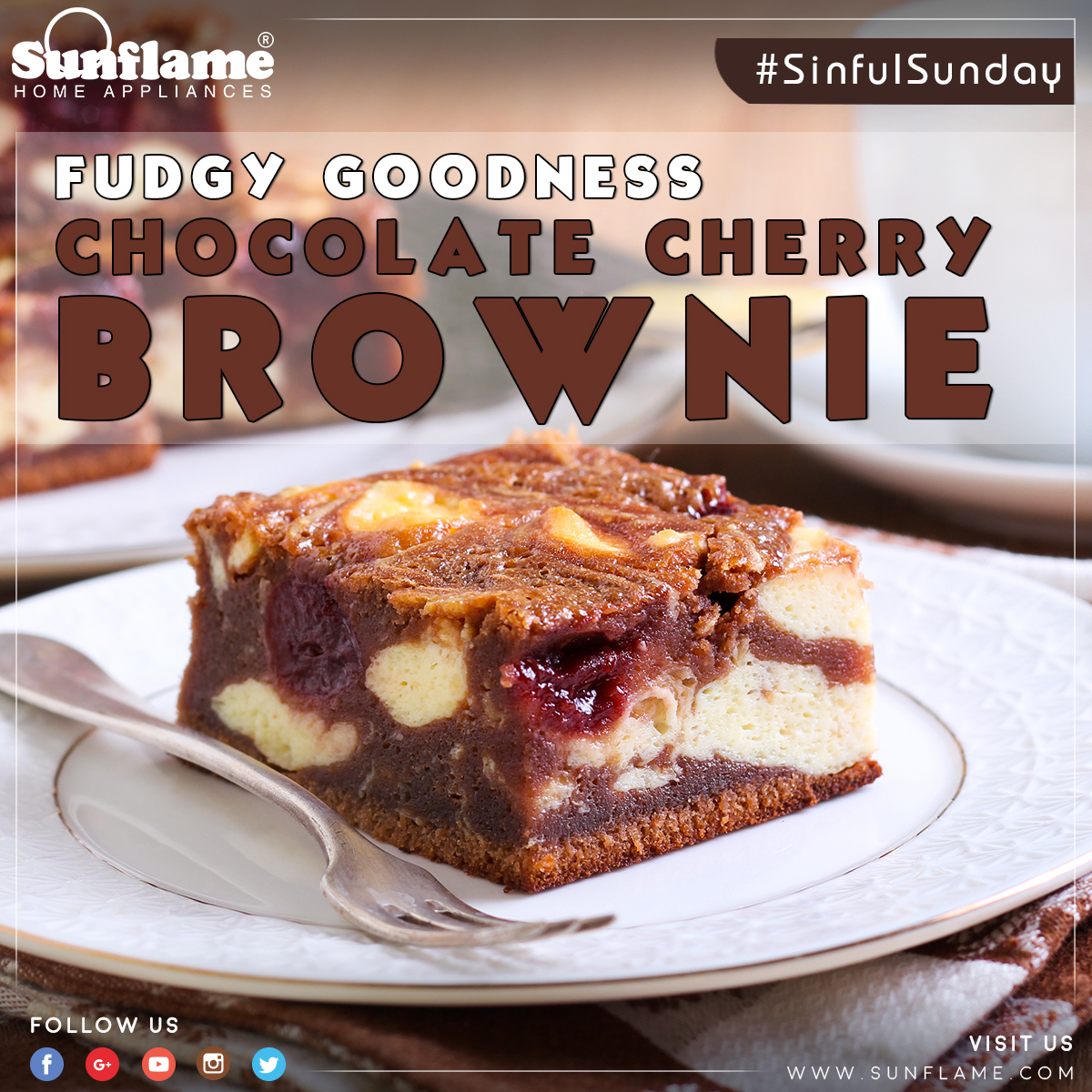 INGREDIENTS
4 ounces semisweet chocolate, coarsely chopped
4 ounces unsweetened chocolate, coarsely chopped
1/2 cup unsalted butter, cut into pieces
3 tablespoons unsweetened cocoa powder
3 large eggs
1 and 3/4 cup packed light brown sugar
1 tablespoon vanilla extract
1/2 teaspoon salt
1 cup all-purpose flour
10-ounce jar maraschino cherries, drained
INSTRUCTIONS
Preheat the SUNFLAME OTG 36 RCSS to 350ºF. Line an 8x8-inch pan with aluminium foil, leaving a 1-inch overhang on all sides. Spray the foil lightly with nonstick spray.
Add the chocolate and butter to a medium heatproof bowl set over a pot of simmering water. Stir occasionally until fully melted and smooth. Whisk in the cocoa powder until smooth. Set aside to cool slightly.
In a separate medium bowl, whisk together the eggs, sugar, vanilla, and salt until combined. Whisk in the melted chocolate until well combined. Fold in the flour with a rubber spatula just until combined. Fold in the cherries. Spread the batter evenly into the bottom of the prepared pan. Bake for 20 to 25 minutes, or until the top of the brownies look dry and the edges begin to pull away from the sides of the pan. Cool the brownies in the pan on a wire rack.
Like us on Facebook & stay posted on delicious recipes: www.facebook.com/sunflameindia