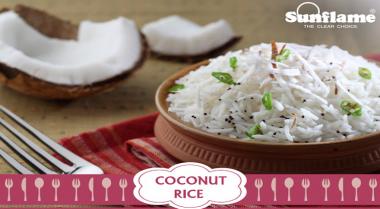 INGREDIENTS:
2 cups Basmati rice
1 tablespoon vegetable oil
1 sliced onion
1 bay leaf
2 whole dried red chilies
2 sticks of cinnamon
4 cloves
4 green cardamom (bash it slightly so the husks open up)
1 teaspoon ginger paste
1 teaspoon garlic paste
1 ½ teaspoons turmeric powder
2 cups coconut milk
2 cups hot water
1 teaspoon salt
INSTRUCTIONS:
Soak the rice in water for 15 minutes. Drain and set aside.
Add the vegetable oil to a pan on medium heat. Add the cinnamon, clove, bay leaf and cardamom. As the mix splutters, add the sliced onions. Let the onions turn translucent. Then add the dried red chilies and cook for a minute. Add the ginger and garlic paste and sauté. Then add the turmeric powder while mixing vigorously. You can add a tablespoon of water if you feel the spices are sticking to the bottom of the pan.
Now add the rice. Sauté for two minutes then add the coconut milk and water. Stir well. Add salt, stir well and cover the pan.
Cook on low heat for 15 to 18 minutes. When it looks like the rice has soaked in the liquid, remove from the heat, lift the lid and let the rice breathe for 10 minutes. This makes sure that the rice stays fluffy and doesn't stick together. Serve with sambar or vegetable stew.
Source: blogs.wsj.com