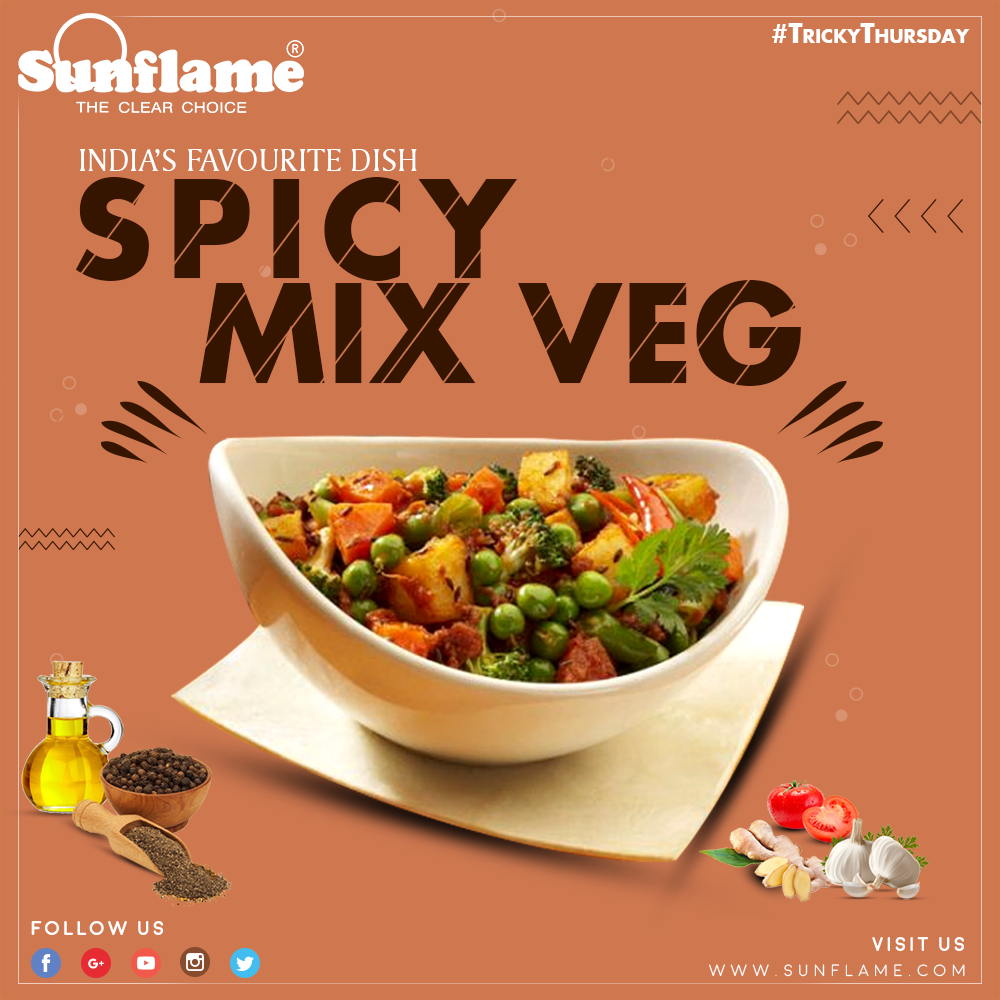 INGREDIENTS
1/2 Cup Chopped Potatoes
1/2 Cup Chopped Cauliflower
1/4 Cup Chopped Carrots
1/4 Cup Chopped French Beans
1/4 Cup Chopped Capsicum (Green Bell Peppers)
1/4 Cup Green Peas
1 Small Onion
2 Medium Sized Tomatoes
1-2 Green Chillies
3-4 Cloves of Garlic
~1 inch piece of Ginger
8-10 Cashews
2 Tablespoons Cream or 1/2 Cup Milk
1 Teaspoon Cumin Seeds
1/2 Teaspoon Turmeric Powder (Haldi)
1 Teaspoon Red Chilli Powder
1 Teaspoon Coriander Powder
1/2 Teaspoon Garam Masala
1 Teaspoon Salt, or to taste
1/2 Teaspoon Dried Fenugreek Leaves (Kasuri Methi)
1/2 Cup Chopped Coriander Leaves
2 Tablespoons Oil
INSTRUCTIONS
First roast some cashews (in oil or without it) and set them aside.

Heat 2 Tablespoons oil in a pan and add chopped potatoes & carrots to it. Shallow fry them for a couple of minutes till they start to turn light golden-brown in color and get crisp on the edges.

Then add cauliflower florets and chopped french beans to the pan. Cook for a couple more minutes.

Add Green Peas and chopped Capsicum. These are added in the end, since they take the least amount of time to cook.

Fry the vegetables till they are all cooked, but do not overcook them otherwise they will turn mushy. Then remove the cooked vegetables on the pan and set them aside.

Heat a little oil in the pan. You can use any oil leftover from the previous step as well. Add Cumin Seeds and fry them till they start to splutter.

Now add chopped onions along with ginger, garlic and green chillies.

Fry them till the onions turn golden brown or translucent.

Then add 2 chopped tomatoes to the pan.

Fry till the tomatoes are cooked and turn mushy. Then let the mixture cool.

Add the onion-tomato gravy to a grinder or food processor along with the roasted cashews. Grind the mixture to a smooth puree and add it back to the pan.

Now add Red Chilli Powder, Turmeric Powder, Coriander Powder, Garam Masala and Salt to the gravy.

Roast the gravy till it starts to leave oil on the sides. Then add 2 Tablespoons Cream or 1/2 Cup Milk.

Add 1 Cup of water to the gravy and bring the mixture to a boil.

Then sprinkle some crushed dried Fenugreek Leaves (Kasuri Methi) on the gravy and mix.

Add the fried vegetables to the pan and mix to coat all the vegetables with the gravy. Cover the pan with a lid and let the vegetables cook for 2-4 minutes.

Finally sprinkle some chopped coriander leaves on top for garnish.

Mix Veg Curry is ready. Serve it hot along with any Indian Bread or some mild flavored rice.
Like us on Facebook & stay posted on delicious recipes: www.facebook.com/sunflameindia