Details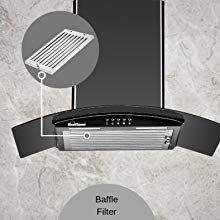 Stainless Steel Baffle Filter works efficiently forcing oil & other residues to settle inside the baffle, letting only the air move freely in between the filters.
All Sunflame Chimneys come with energy-efficient LED appointments to keep your kitchen bright and heat-free unlike the halogen alternatives.
The high efficiency 190w motor is the heart of our high extraction chimney and our unique design holds the Motor and Twin Turbine in place whilst absorbing any vibrations they create. This allows the fan to spin much faster while still maintain a very steady and quite operation level.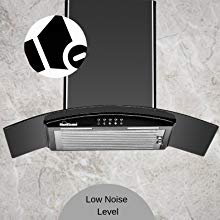 All Sunflame Chimneys range between 55dB to 57.5dB (A normal conversation is 60dB).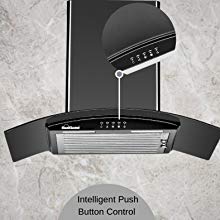 The Intelligent push button controls will offer you maximum comfort and convenience. It also helps you to control and operate the light and different speed levels enabling the ease of operation to create a perfect environment in the kitchen.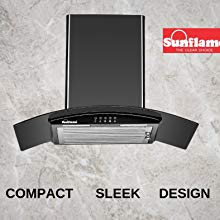 The compact , sleek and beautiful Sunflame Bella chimney complements the interiors of your kitchen. It's design also ensures great efficiency.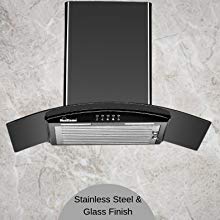 Loaded with supreme features and solid performance, the Stainless Steel / Black Powder Coated and Glass Finish of Sunflame Bella adds sparkle to your beautiful kitchen.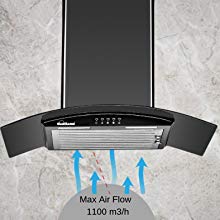 Airflow volume 1100m3/hr
Unique centrifugal fan design
Powerful motor spins at over 18000rpm