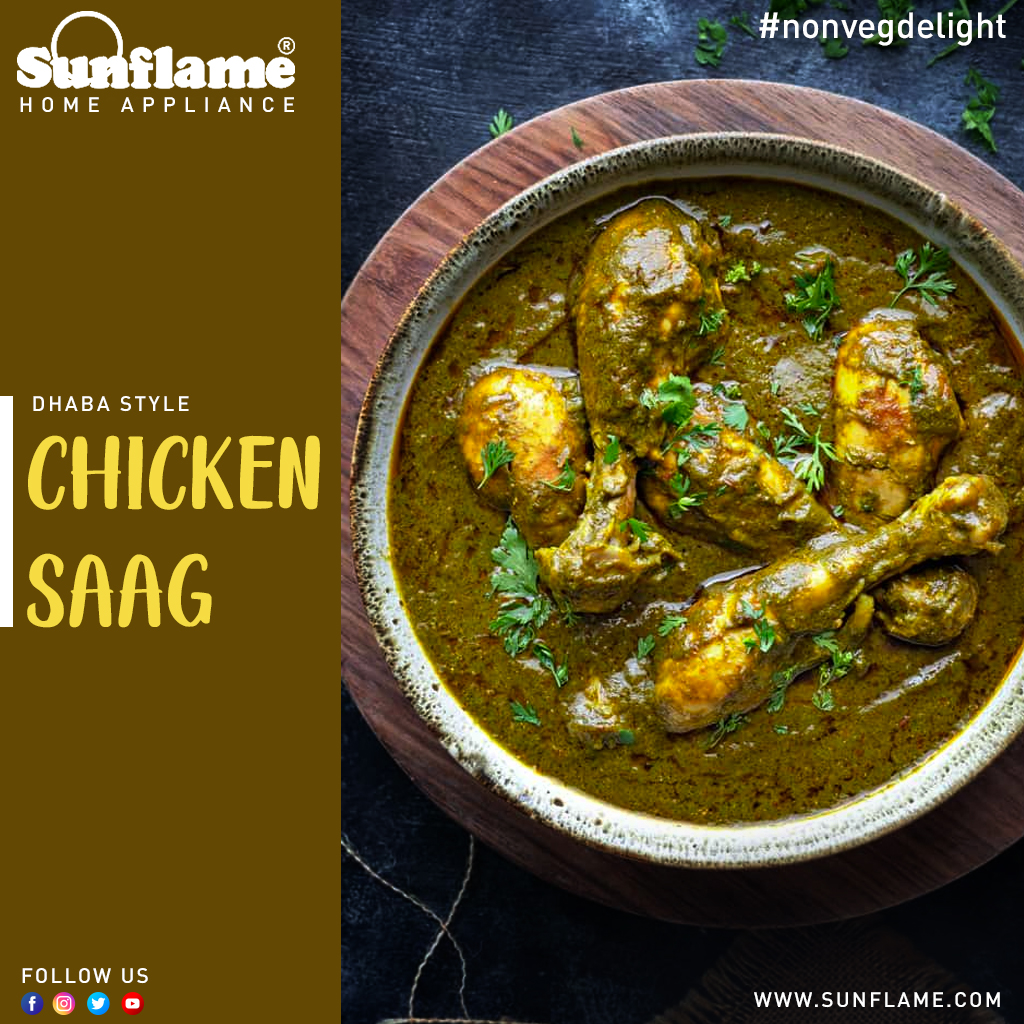 Ingredients
1 kg Chicken
300 gms Spinach blanched and pureed.
250 gms Yogurt
1/2 tbsp Garlic paste
1/2 tbsp Ginger paste
1 tsp Green chilli paste
3 Onions medium sized, ground to paste
1 tsp Black pepper powder
Salt to taste
2 Bay leaf
8-10 Black peppercorn
1 tsp Cumin seeds
4 Cloves
4 Green cardamom
1 inch Cinnamon stick
1 ½ tsp Red chilli powder
½ tsp Turmeric powder
2 tsp Coriander powder
1 tsp Garam masala powder
2 tbsp Tomato puree
1/4 tsp Nutmeg grated
1 tsp Lemon juice
Salt as per taste
3 tbsp Oil
2 tbsp Ghee
Ingredients to marinate chicken
Whole Spices
For Gravy
Instructions
How To Make Chicken Saag Recipe on Stove Top
Heat an oil and ghee or butter together in a pan.
Add whole spices and allow them to crackle.
Add marinated chicken and sauté on high heat for 2 minutes. Stir in between.
Add red chili powder, turmeric, coriander powder, tomato puree and mix well.
Add 1/2 cup of water, cover and simmer for 10-12 minutes.
Add pureed spinach, garam masala powder, crushed nutmeg and mix well.
Adjust the consistency if required. Add lemon juice, cook on medium heat for another 3-4 minutes or until done.
Dish out, garnish with coriander leaves.
In a large bowl, add all the ingredients along with chicken.
Combine everything well, cover and allow it, marinate for an hour under refrigeration.
Switch on the IP and press 'Sauté' button. Once it displays 'Hot' add oil and ghee together. Then, add whole spices and fry for 30 seconds.
Add marinated chicken and sauté for a minute.
Cover IP glass lid or any lid that fits the IP to and cook for 3 minutes.
Add red chilli powder, coriander powder, turmeric powder, tomato puree, salt and mix well. Cook for another 1 minute. Ensure to deglaze if anything is stuck at the bottom.
Add spinach puree, garam masala powder, nutmeg powder.
Now, add 1/4 to 1/2 cup of water depending upon the gravy consistency you need.
Put the IP lid with pressure valve in sealing position. Cancel 'sauté' button and press manual/pressure cook button, set the timer to 4 minutes on high pressure. Allow it to pressure cook.
Once the IP beeps, do quick pressure release with pressure valve in venting position.
Open the pot, add lemon juice and mix.
Only if the gravy is thin, switch on the 'sauté' mode and simmer on low for another 2-3 minutes, to evaporate some of the liquid giving semi thick creamy consistency.
Instant pot chicken saag is ready, dish out, garnish and serve.
How To Make Instant Pot Chicken Saag Recipe
Source: https://www.cubesnjuliennes.com/palak-chicken-saag-recipe/#wprm-recipe-container-15711