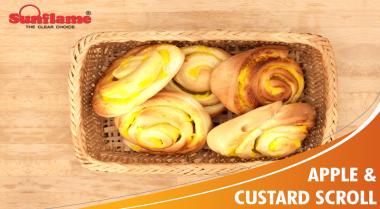 INGREDIENTS
2 sheets shortcrust pastry

400 g canned pie apple

1/2 cup caster sugar

1/2 cup hazelnuts ground

1 cup thick custard

1 egg beaten to coat
INSTRUCTIONS
Heat oven to 180C.

Grease and line 2 biscuit sheets or lamington pans with baking paper.

Lay out the sheets of pastry on a lightly floured rolling sheet or greaseproof paper.

Sprinkle nuts evenly over the pastry leaving a space around the edges.

Spread custard over pastry leaving a 10 cm margin around all edges.

Spread mashed apple over the

Sprinkle evenly with caster

Roll pastry from the longer side making sure the filling goes with the roll and doesn't build up.

Dampen edges of pastry and fold the ends in, ensure the crease is underneath.

Cut each roll into 12 equal portions and place on baking trays.

Beat egg and brush over scrolls, sprinkle evenly with remaining caster sugar.

Bake for 15-20 minutes or until golden brown.

Allow to cool slightly then lift onto a cooling rack.