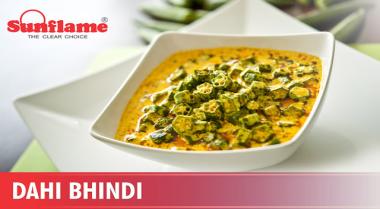 INGREDIENTS:
200 to 250 gms bhindi/okra
1 medium onion, finely chopped
2 medium ripe red tomatoes + 6-7 whole cashews, chopped - blended to a smooth paste
½ cup yogurt/curd, whisked till smooth
3-4 garlic + ½ inch ginger - crushed to a paste in a mortar and pestle
1.5 tbsp gram flour/besan
½ tsp cumin seeds/jeera
½ tsp coriander powder/dhania powder
¼ tsp red chili powder/lal mirch powder
¼ tsp turmeric powder/haldi
¼ or ½ tsp garam masala powder - if homemade or very strong, then just add ¼ tsp
2 cups water
1 to 2 tbsp cream
2 tbsp oil for sauting the okra
1 tbsp ghee or oil for the sauce
Salt as required
INSTRUCTIONS:
Rinse the okra/bhindi in water for a couple of times.
Dry the bhindi with a kitchen towel or spread them on a plate and let them dry on their own.
Trim off the head and tail of the bhindi. Chop the bhindi in 1 inch pieces. Keep aside the chopped bhindi.
Heat the 2 tbsp oil in a pan. Add the chopped bhindi and saute for atleast 8-10 minutes on a low flame till they change color and are cooked.
Remove the sauted bhindi and keep aside.
Puree the tomatoes and cashews to a smooth paste in a blender or chutney grinder.
With a wired whisk, whip the yogurt till smooth.
Heat up the same pan in which we sauted the bhindi.
Add 1 tbsp oil or ghee. Crackle the cumin seeds first.
Add the chopped onion and saute till the onions caramelize or turn golden.
Add the ginger-garlic paste and saute for about 15-20 seconds or till the raw aroma goes away.
Add the tomato-cashew paste and saute till oil starts to leave the sides of the mixture.
The onion-tomato-cashew masala paste has to be sauted very well.
Keep on stirring often for uniform sauting.
The whole masala should come together and you should be able to see the oil or fat leaving the sides of the masala.
Add gram flour and saute for 1-2 minutes or more on a low flame till the raw aroma of the gram flour goes away.
Add all the spice powders and saute again for a minute.
Switch off the fire and place the pan down. Add the whisked yogurt and water to the pan.
Stir well with a wired whisk and add the sauted bhindi and salt.
Keep the pan on the fire and simmer the sauce till the mixture starts to thicken and you see the oil or ghee floating on top.
Add the crushed kasuri methi along with the cream and simmer for half a minute.
Serve dahi wali bhindi with some hot phulkas, naan or rotis.
Source: vegrecipesofindia

Like us on Facebook & stay posted on delicious recipes: www.facebook.com/sunflameindia