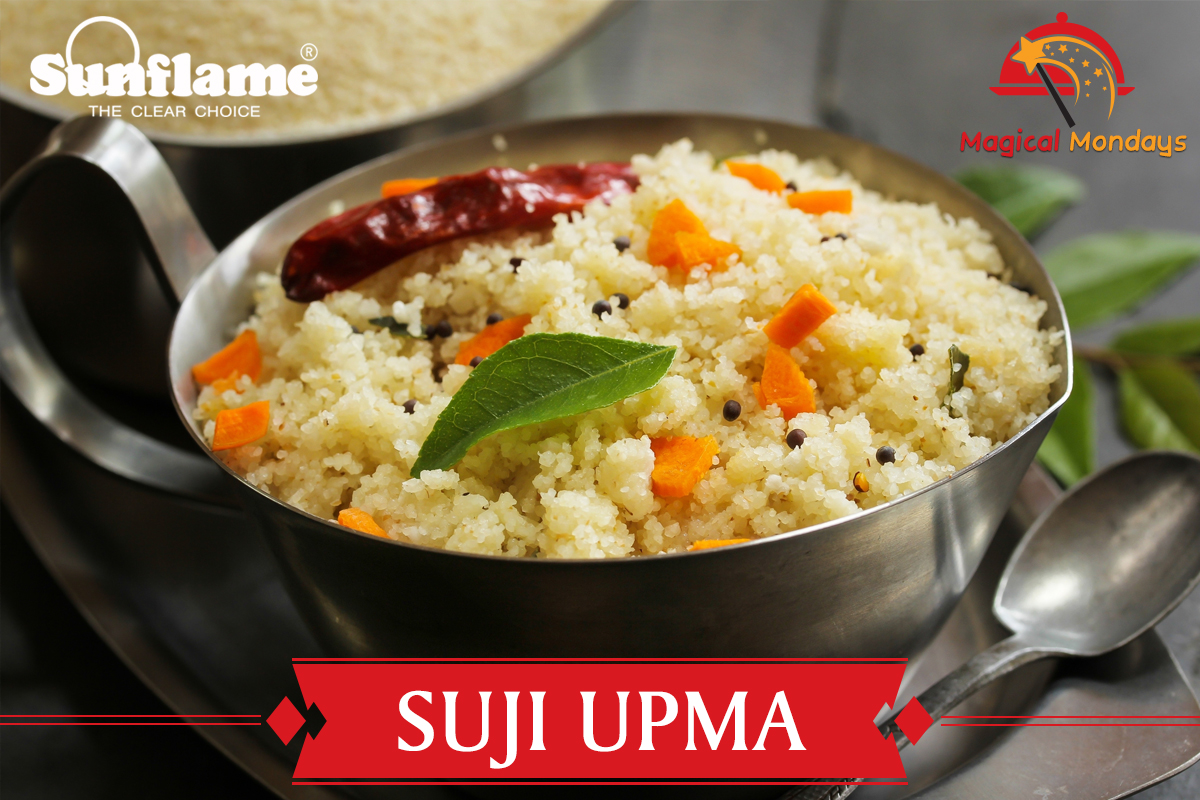 INGREDIENTS
Coarse Suji/Sooji/Semolina – 1 cup
Oil – 1 tbsp +1 tsp
Mustard Seeds – 1/2 tsp
Cumin Seeds – 1/2 tsp
Channa Dal – 1 tsp
Raw Peanuts – 2 tbsp
Urad Dal – 1 tsp
Broken Cashews – 1 tbsp
Turmeric Powder – 1/4 tsp
Dry Red Chili – 1
Asafoetida – pinch
Curry Leaves – few
Green Chili – to taste, finely chopped
Ginger – 1 tsp, grated
Onions – 1 small, finely chopped
Peas & Carrots – 1/2 cup
Salt – to taste
Water – 1.5 cups
Yogurt – 1/2 cup, well-beaten
Cilantro – garnish, finely chopped
INSTRUCTIONS
In a heavy bottomed pan on medium heat, pour in 1 tsp of Oil.
Add in the Suji and roast till it starts to get a little golden color and emits a wonderful aroma.
It is very important to keep stirring and Suji tends to burn.
Once done, transfer the Suji to another bowl to stop the cooking process.
On medium heat, in a non-stick pan, pour in the 1 tbsp of Oil.
Allow it to heat up and then add in the Mustard Seeds.
Once they start popping, add in the Cumin Seeds, stir and add in Channa Dal & Peanuts.
Cook for 30 seconds and add in Urad Dal and the Broken Cashews and allow them to turn light golden in color.
Add in the Dry Red Chili, Turmeric Powder and Asafoetida. Mix.
Add in Green Chili, Curry Leaves, Onions and Peas & Carrots.
Saute until the Onions till they are cooked but not browned (look in tips).
Also, add in salt at this time.
Meanwhile, mix the Yogurt with the Water. Pour into the pan. Keep mixing.
Add in Ginger and allow the liquid to come to a boil.
Once it comes to a boil, lower heat and add in the Suji little at a time.
Mix really well and make sure there are no dry lumps/spots of Suji.
Cover and cook for 2-3 minutes.
Open the lid and mix and fluff up the Upma.
Turn the flame off, cover and allow it to rest for another 5 minutes.
Open and serve with Cilantro as garnish (lime juice optional).
Serves 4.
Source: http://showmethecurry.com/odds-ends/suji- upma-indian- cusine-recipe.html