Details
The fortified toughened glass is scratch-resistant, durable, and dependable with an elegant and classy look that matches your style. Just a few smooth swipes and the cooktop will be free of all stains and grime.
The euro-coated pan supports are designed to bear heavy dishes and the spacious layout lets you place multiple pans and pots on the stove at the same time.
Designed to suit the Indian cooking style, the brass burners are perfect for long hours of cooking at high tempratures. The high durability and stain resistance make this the perfect choice for the Indian Kitchen.
The double stainless steel drip tray is added to make contain all the hot spillage and seepage from the dishes. Simple lift the drip trays and clean them in the sink.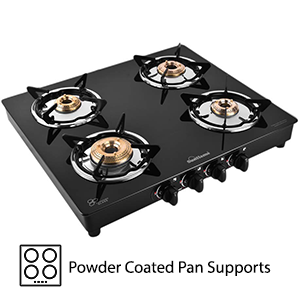 The powder-coated metal body comes with an immaculate finish and protection against chipping, fading and wearing off so that the stove looks spotless and new for years and years to come.
The ergonomically designed control knobs come with a stainless steel finish that adds a touch of sleek elegance to your kitchen. The precsion control knobs let you adjust the flame with ease ensuring a safe usage.
Additional Information
| | |
| --- | --- |
| Number Of Burners | 4 Burner |